My content may contain affiliate links. If you take action (i.e. subscribe or make a purchase) after clicking one of those links, I'll earn some coffee money – which I promise to drink while creating more helpful content like this. Thank you for your support! Click here to read my full disclaimer.
For the last couple years, I've been working on moving my diet and lifestyle towards whole foods and ingredients. Doing challenges like the Whole30 and playing with keto/paleo diets also led me towards making my own recipes for things that would normally come in a bottle or package. Things like salad dressings, snacks like toasted nuts and trail mixes have become staples in my cooking and meal prep every week. But, up until recently those DIY recipes have stayed pretty much in the food realm – this week I had a sudden epiphany that I could not only whole-ify my diet, but also my skincare routine! A few google and pinterest searches later I had more info than I could have needed to get an easy start towards moving away from having everything I put on my skin come from a store.
I chose a simple recipe for a Rose Nourishing Oil as my first endeavor. I had just run out of one of my favorite facial oils – the Mario Badescu Rosehips Nourishing Oil, so this will take the place of an oil serum in my daily routine. If DIY isn't your thing or you're putting this on a longer term projects-to-do list, I highly recommend the Mario oil!
The recipe that I found on Mrs. Happy Homemaker was almost too simple! And I love that she outlines her simple three-ingredient recipe, but also defines what each ingredient is doing and options for other ingredients you might use for the same purpose. I really love rose scents and so I adjusted this recipe just a teeny bit to use a rose essential oil as opposed to lavender, so feel free to experiment with yours as well.
---
---
My Ingredients
This recipe features three skin-nutritive ingredients!
Argan Oil
The skin benefits of argan oil seem to be many. Argan oil is used as an anti-aging ingredient, and has been shown to protect and heal skin of a variety of types. I used this argan oil from Piping Rock. It is lightweight and does not have too much aroma on its own. You can also find a smaller size on Amazon here.
Rosehip Oil
Rosehip oil is used in skincare for brightening, moisturizing, anti-aging and healing. It is also a relatively lightweight oil that won't weigh you down! I am using Piping Rock's Rosehip Oil – it has a small amount of aroma, kind of herbaceous, rose-y and floral. For you Prime-fanatics, here is an option on Amazon as well.
Rose Essential Oil
Rose essential oil is one of the more expensive essential oils in the list. However, for me this is what really made this facial oil. My skincare routine is not just something I do to take care of my skin, it's also something of a meditative ritual at the start and end of my day. The rose aroma in this oil really helps draw my mind into the moment and makes me feel truly pampered.
For skincare, Rose Oil is used to help reduce signs of aging, reduce the appearance of scars, and help keep skin happy and hydrated. I used Piping Rock's Rose Essential Oil in this recipe. For the Amazonites, here is an alternative.

Easy Click Ingredient Ordering:
Click here to pick up all three at PipingRock.com
---
---
How To Make Rose Nourishing Facial Oil
This recipe could not be more simple!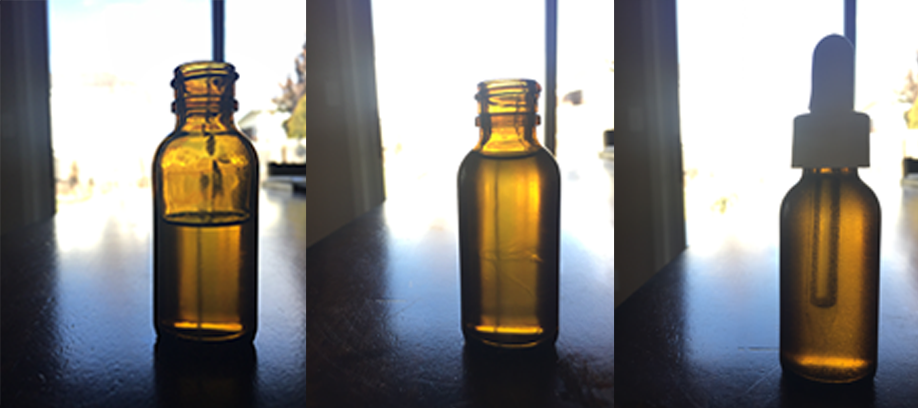 Prepare a clean, sanitized container of your choice. I used a 1 oz. bottle with an eyedropper. Get some of your own on Amazon in classic brown, green, or clear.
Fill the bottle about 1/2 of the way full with your base oil, we're using argan in this recipe
Fill nearly full the rest of the way with your nourshing oil, the rosehip oil in our case.
Add 5 – 6 drops essential oil to finish, or the recommended amount for the volume you're making – the rose oil for us.
Screw that lid on and give it a good shake!
And you guys – that's it! You've now made your own rose nourishing facial oil. I was very pleased with the aroma of this one and I love how luxurious it feels on my skin. Let me know if you give this recipe a try or if you have your own homemade serum recipes that I should give a try!
---